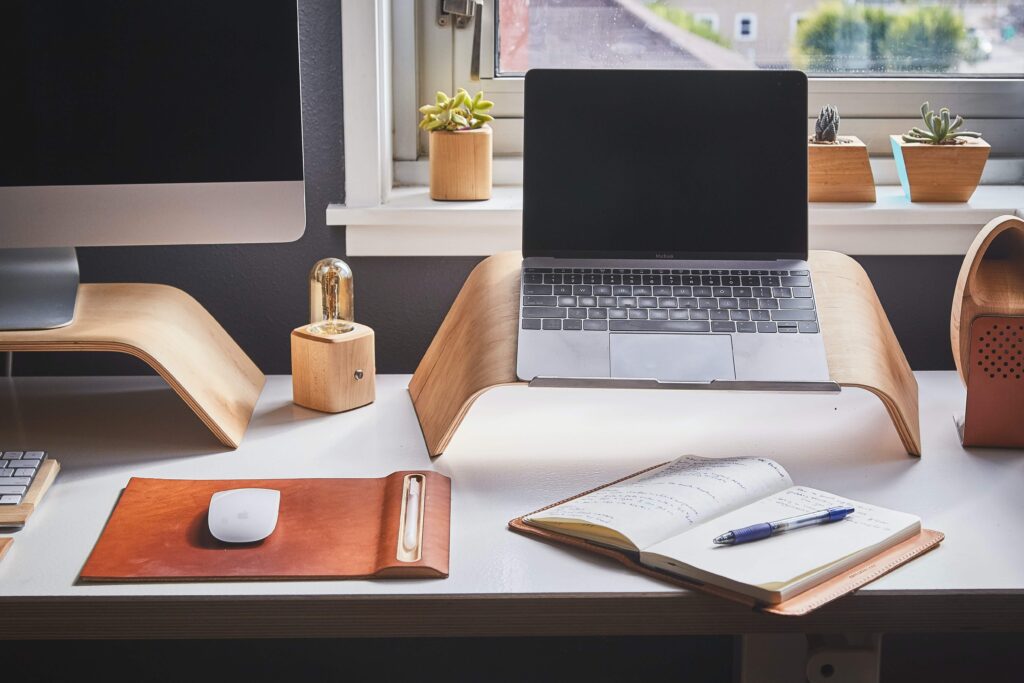 Working from home seems very appealing for many people, however it's not always as glam as it may sound on the label. There is more to it than rolling out of bed and starting your workday in your pajamas. Working from home requires some adaptation in order to get the most out of your work day and stay focused. Many of us find working at home an unfamiliar environment, we may have distractions and lack social interaction. Even though we have video calls that make interaction so much easier these days, it's not quite the same.
It can be very easy to fall behind when you don't have your boss looking over your shoulder. It's easy to put that big project off until tomorrow if you don't have a plan to stay productive, implement some self discipline and time management.
On the other hand, it's also easy to over work yourself at home with no physical barrier between your laptop and your couch. There's always the danger that we can get wrapped up in favour of doing work and not know when to call it a day. We must learn to create balance and leave enough time for ourselves, our home life and our family.
In spirit of lockdown 3.0 in England, we have compiled a list of Tip Top Tips to make your work from home life more productive, keep you motivated and allow you to give yourself a clear head! Some are very little things that you can change in order to bring a positive impact on your day.
Have a dedicated working space
It's important to have a specific place in your home that you work from, this will not only help you to limit distractions but also be able to associate that place as 'work', and leave business behind when you finish for the day. Do not make that place your bed! If you are feeling bored, uninspired or unproductive, don't be afraid to change up this space, a change of scenery can do a world of wonders. Staring at the same four walls five days a week can be very repetitive and uninspiring. Something as simple as changing the position that you are facing can give you some positive energy.
Protect your posture
Working from home is becoming more and more of a permanent solution for many companies. We have seen a number of companies already downsize their office spaces as a result of work from home successes. With that being said, working from a laptop is not for the long term. Bring your screen to eye level so that you are not hunched over, causing back problems. This can be as simple as putting your laptop on a stack of books and using a separate keyboard or using a desktop screen and using your laptop as your keyboard. Additionally, we cannot highlight the importance of an ergonomic chair, they are worth every penny to protect that lower back of yours. So take the plunge or speak to your employer about cost expenses. If you don't have the space, we recommend that you purchase a separate lumbar support for as little as £25 and use it on your dining table chair. The NHS has recently published further guidance surrounding the importance of posture.
Structure, structure, structure
The key to keeping your day structured is sticking to your normal routine. If you used to get up and shower in the morning, shower. If you used to walk to the train station as part of your commute, take a walk. Used to do a load of washing and hang it out? Do it! Ensure that you continue to do things that you used to do when working in the office to create a sense of normality. If you take time for your morning routine, you will feel more prepared to tackle your work to-do list. Likewise, when work is over for the day, make an effort to not check messages out of work hours.
Take a break
Just like you would in the office, take regular breaks. Set aside time each day to get away from your screen to make a hot drink or take a lunchtime walk to get some fresh air. It may seem that taking no break will get work done faster, but in the long run, it's not sustainable. I'm sure we have all had lightbulb moments when we are away from our desk and in a separate room. Who knows what idea you might come up with when you are making your cheese sandwich!
Introduce walking meetings
Consider introducing walking meetings into your schedule. Not every meeting requires you to be in front of your screen or on webcam, especially meetings that are booked as a brainstorming session. Walking meetings allow you to integrate physical activity and circulation, which leads to more energy. As mentioned, changes of scenery can help to spark bright ideas. Research has proven that nature triggers neuro-pathways in our brains which can create solutions to problems. So grab your hat and gloves and get out in the fresh air.
Network and socialise, virtually
Keep in touch with your co-workers by setting time in the calendar for 'catch up'. Use this time to not talk about anything business related but check in on one another – just as though you were making a cup of tea in the office kitchen on a monday morning. Having human interaction and seeing familiar faces can benefit by helping us with motivation, confidence and giving us the extra push to do something we believe in. So force yourself to jump on a Google Meet coffee meeting, it will not only benefit your mental health but potentially your career too.
Practice Feng Shui
In Feng Shui, windows are said to wake us up, allowing us to see the world with clarity and precision. With clean, clear windows, you'll also let in more light, which brings colour to your space. So make sure your work space has a window and lets in natural light. Plants are very symbolic in Feng Shui as they express life energy and connect us to nature. They bring vibrancy, freshness and health to our homes. Add a plant to your desk, increase oxygen and work more efficiently.
Make the most of the benefits!
While working from home has its challenges, there are many benefits. The top of our list has to be allowing you to have a less stressful life by doing chores and life admin, on demand, when you choose! Easy school pick ups, work outs at lunch time, not missing your Amazon delivery and peeling the potatoes for dinner are all examples of how life can be made easier when working from home. Oh and lets not forget to mention the amount that you will be saving on commuting costs and that fancy coffee on route to the office, we'll stash that extra cash in the savings account.
If you have your days when you feel anxious, down or unmotivated, just remember to stay thankful for retaining your job from home during these uncertain times. We are all in this together.
Encompass Innovate is here to help assist you and your business with the shift to delivering your business virtually. Reach out to us today to see how we can work together, to make work better – hello@encompass-innovate.co.uk
You can read more on the science of motivation and how it impacts workers' productivity, here – Triggering Productive Behavior: Motivation Tips for Work