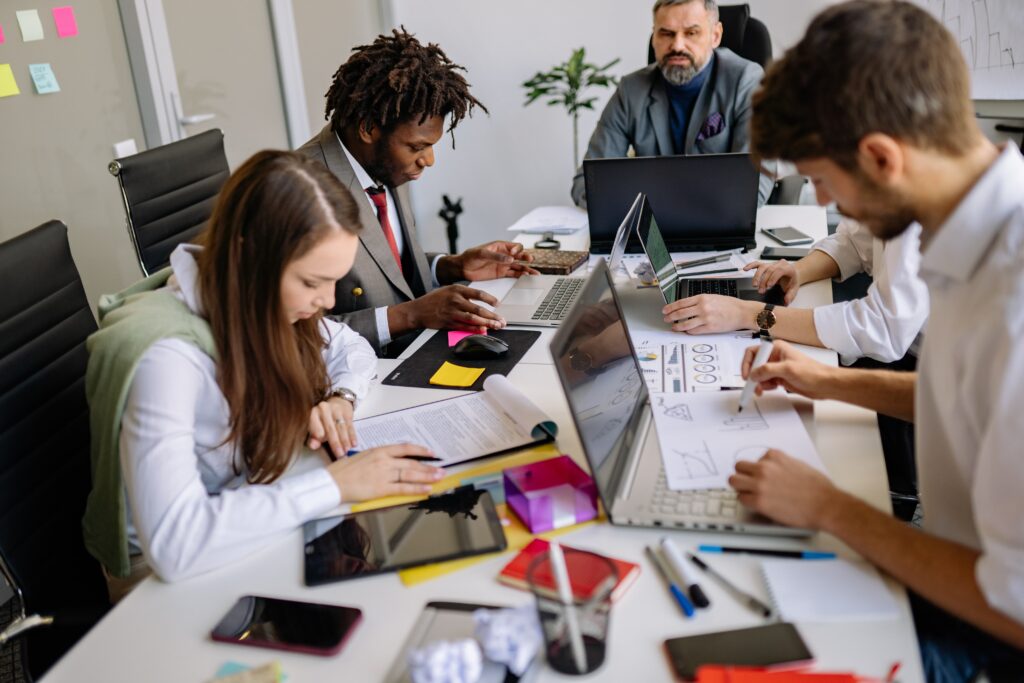 The best ideas come from your workforce when they feel empowered that they have the freedom and responsibility to contribute with creativity and expression. This starts with building an empowered and motivated culture.
Involving everyone in your innovation programme means that you are empowering each person in the organisation to contribute to its future success. Giving everyone a voice immediately inspires a proactive and engaged innovative culture.
So how do you do this?
Innovation strategy
Everyone talks about innovation, but often employees can't explain what that means for the company and for them and what they can contribute. By creating an innovation strategy and communicating its importance; the expectations and goals regarding innovation should be clear to every employee.
Strategies can be communicated through creative visuals or by holding short workshops that explain the strategy and how it will be implemented…
Innovation Labs
Innovation Labs are outsourced away days that encourage change within a business by identifying areas where change can bring positive improvements. During an Innovation Lab, attendees take a deep dive into business activities and remove usual obstacles and barriers to thinking by thinking under the motto "everything is possible and permitted".
Labs tease out what needs to happen to move you forward to a successful future and protect your business from corporate antibodies or a business-as-usual mentality. Opportunities for business improvements are identified through harnessing and leveraging opportunities and maximising staff skills.
If labs are well moderated and the topics are exciting, an immense attraction will be created and people will be inspired for innovation as results will be evident.
Recruit Internal Innovators
By recruiting Innovators within your organisation, you are creating a community of ambassadors who promote the benefits of an innovative society and workforce. They encourage colleagues to come up with new innovative ways of working and have the confidence to innovate and make better use of new technology and processes. Innovators are the middle person between colleagues and the leadership team, bringing valuable ideas to the table for consideration.
Innovators selected to participate in the initiative will need to demonstrate that they possess a specific skill set as 'true' ambassadors and, crucially, the right attitude, passion, and enthusiasm to meet your goals and drive change within your organisation. They must have expertise in internal communication and proven records as change agents as they will become the "go to" person.
Innovation as a company value
Consider having "Innovation" as a company value to create a culture where every employee feels they have some level of autonomy to think independently and find new ways to solve problems. Great leaders make smart decisions, but they also know they can't and shouldn't do it all alone. Leading is as much about listening, mentoring, trusting and empowering your teams as it is about anything else.
Innovation Awards
This could be done in two ways; either by rewarding the best innovative ideas, teams or projects over a certain period or via an Innovation Contest – presenting an idea or a business problem and asking employees to submit their innovative ideas on how to overcome or improve them. You can then award a winner.
Public recognition that the employee(s) receive from the company in addition to prizes and awards mobilise other employees and encourages them to think about innovations.
Take action – quickly
To truly create a culture of innovation, you must be willing to encourage action on innovative ideas, not just produce continuous 'conceptual chatter' – it's important that the ideas don't end up in a drawer, but have an effect, otherwise every commitment will be lost.
This isn't to say that every idea is a great one or every new product proposal should go directly to prototyping. Take time to gather data and make informed decisions through Labs and Innovators – but not too much time. Whether you invest more of your resources or take a different path, be agile enough to make those choices in a way that's confident and measured, and with no more downtime than is absolutely necessary.
Contact us today to find out more about our Innovation Consultancy, Innovation Labs and Innovator Programmes. Our Innovator Programme creates subject matter experts through bespoke training sessions, guidance and mentoring to allow them to drive and deliver change, and share knowledge.