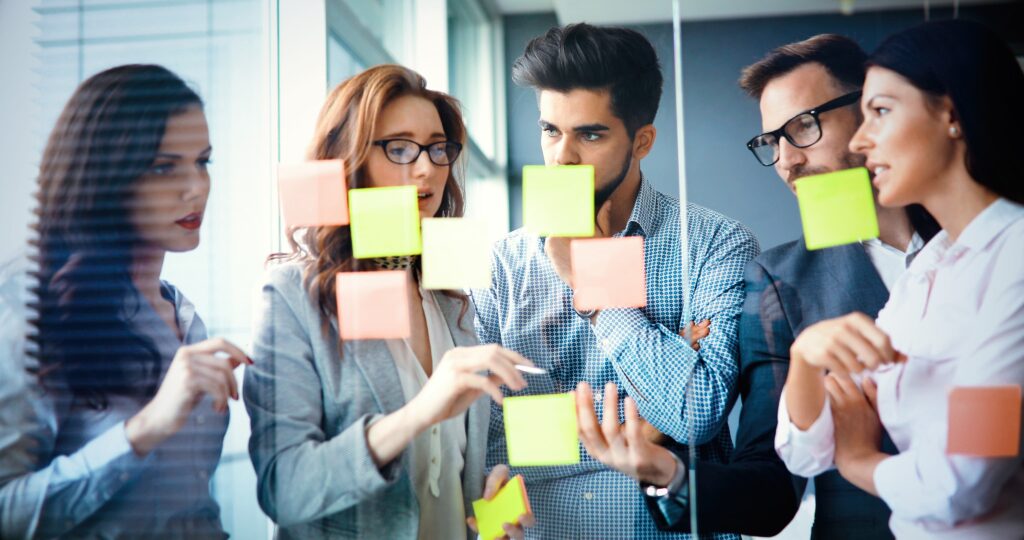 Digital transformation is important for companies of all sizes to remain competitive as the world becomes more digital. Digital technology is now integral to every aspect of a company and its success.
To build the right digital strategies, you need the right people. Working with a digital transformation agency allows you to quickly begin your journey to embrace digitisation.
What is Digital Transformation?
Digital transformation is much more than creating digital products or adopting digital technologies. In general, it is a cultural shift that promotes new or adapted ways of working. Digital transformation strategies often boil down to company cultures that promote fast-paced innovation and an ability to quickly pilot new initiatives.
Although digital transformation looks different for every business, it can often require the adoption of new (or modify existing) digital technologies. This improves overall business performance, meets clients expectations and the experience that they receive.
Digital transformation adapts business culture to work with new technology. It does not force technology into a business. Culture drives solutions.
Most importantly, digital transformation does not have an end date, it's not a one time project. It is a continuous way of working that should never stop.
Why is Digital Transformation important?
Focusing on the future of technology to provide a digital service is key.
Unleash Competitivity
With the rapid rate that technology advances, customer behaviour is changing. Digital transformation allows businesses to be able to react quickly in order to meet future customer expectations, stay competitive and remain relevant.
Optimise Operations
Digitising your business allows for operations to become easier and more efficient than if you were to use traditional methods. This allows you to have easier access to customer insights, remain compliant and best of all – save both time and money.
Become Business Agile
Since 2020, many organisations have found themselves under-equipped to continue their customer experience and operations in a contactless, virtual world. If there were ever any doubts about the necessity of digital transformation, the market has now silenced them.
Why work with Digital Transformation Agencies?
Building a digital transformation roadmap or digital ecosystem isn't easy, it's an ongoing project that requires a team with the right experience and knowledge to extract the right data and implement the right solutions.
There is often resistance to changing a culture, introducing new technologies or ways of working into core business. A neutral perspective (from an agency) means buy-in from internal key stakeholders is more welcomed, allowing transformation to take place.
Working with Encompass Innovate
Identify and Research
At Encompass Innovate, our research phase is carried out through our Innovation Labs. The sessions provide a safe place in which we diagnose and work with you to begin to solve your unique organisational problems and dilemmas. We then provide you with a report detailing our recommended tangible actions and next steps that you need to take.
User Experience (UX)
Through our people-first approach, we conduct user experience research to optimise your customer journey. The 'user experience' is not just confined to your customers, but also your staff's experiences and those of other stakeholders.
Solutions
You then have the option to take this one step further – allowing us to bring our recommendations into practice by building and implementing solutions to digitally transform your business. Our solutions are not pre-built, we have the knowledge to architect approachable products, systems and results. Our user-led design allows humans to do human stuff and machines to do machine stuff.
Empower Staff
We then empower your staff to use new technology and embrace it within your business, sector and industry. This could be through ways such as training (see our Google Workspace Training), providing online resources or running Innovation Labs with smaller teams to explore the challenges they face.
Our Experience
Over the years, we have become experts in the development of digital processes, creating solutions and providing insight across a variety of sectors including the government services industry.
Working with a variety of clients means we can avoid common digital transformation mistakes that may arise; such as employee pushback, organisational structure obstacles, a lack of expertise and strategy.
We embrace change. Our digital transformation consulting company helps you realise your full potential and effectively change.
Bespoke Services
Our digital transformation agency solution allows you to architect your own experience with us, whether you're looking for a full-service digital agency or just a few technology consultants. We tailor our services and solutions to suit your specific needs meaning our expertly digital-driven capabilities drive positive faster results at a lower cost.
Short-term investment, Long-term saving
So how can we create value for you? Our clients' time and budget are at the forefront, always. We exist because we have had to save money and do things differently ourselves. We are a short term investment for a long term saving, meaning you will save our costs over a period of time.
Market accredited agency
The stakes are high when you're accountable for large budgets and the success of your products and services. With the right people, agency and strategy, your business digital transformation projects will be a success.
Encompass Innovate is a digital transformation agency in the UK with an ISO-accredited process. We're certified for our quality management system, business processes and robust data protection guidelines. You can trust us to transform your business.
Need a Digital Transformation Agency?
Contact Us to begin your digital transformation journey with Encompass Innovate and embrace your digital future. We are your partner for digital transformation. We work with you to make work better.