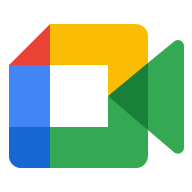 Google Meet is a video-communication service developed by Google. It's just like Zoom but better (in our opinion). It's name changed recently, it used to be called Hangouts Meet, that may sound more familiar to you.
We have put together some tips on how to use Google Meet as part of your day to day.
Where can I find Google Meet?
When in a chrome browser, go to the waffle (9 dots grid) at the top right hand side of the screen or go to meet.google.com
You can also download the Meet app for Android or iOS devices
How do I create or join an event?
You can create a new Meet, join a Meet you have been invited to or enter a code for a Meet all from the Meet home page.
What do I need to know once I am in the Meet?
Once you have clicked continue, the left hand side of the screen will show you your video preview and at the bottom, you can see the microphone and camera on/off buttons.
On the right hand side of the screen, you will see if anyone is currently in the meeting.
You will be greeted with a page that allows you to copy the joining information and share it with others you want to join. You also have the option to add people via their email address.
Helpful Features (located in the bottom right hand side of the screen)
Raise your hand – if you want to speak
Turn on captions – this will allow you to read what is being said
Present now – share what is on your screen with all attendees
What do the three dots do?
By clicking on the three dots (overflow menu) you gain access to the following options:
White board – an interactive smart board where you can map out ideas and draw diagrams
Change the layout of how many people you can see
Make the meeting window full screen
Change or blur your background – handy if you do not want attendees to see your surroundings. You can blur your background or even add a custom image as your background.
Use a phone for audio – use a phone number to hear the audio. This is good if your wifi is weak.
Access further settings for video and audio quality
You can download a PDF version of this Tip Top Tip, here.
think Google Meet is great and that is why we use it everyday. One of the biggest advantages is having access to the integrated programs that come with it via Google Workspace.
If you would like to know more about how Google Workspace can boost productivity within your organisation, please reach out to us today. We have a fully comprehensive Google Workspace training program that can teach everyone in your organisation everything that you need to know.